The Connection encapsulates the concept of the world as one community and a vision of hope for the future. Its creator, Luke Burton, has invited the University Hospital Trust Charity to be a partner for the Broadway Plaza installation in Birmingham which is the first across the globe.

The Connection project is focused on building a strong and unified foundation for a harmonious future. It aims to promote a positive and optimistic connotation for the term, 'wall' as  each individual brick is integral to the making of a strong and an undaunted wall,.
University Hospitals Birmingham Charity (UHB Charity) is proud to be the official charity for four local hospitals namely the Queen Elizabeth Hospitals Birmingham Charity, Heartlands Hospital, Good Hope Hospital and Solihull Hospital. We exist to support patients, their families and staff across our four hospitals sites by providing those added extras which cannot be funded by the NHS. This includes state of the art equipment not normally found in NHS hospitals, additional facilities, cutting edge research and patient comforts which make a big difference to a patients' stay in hospital.
"We are incredibly grateful to modern sculptor Luke Burton and his team for choosing UHB Charity as a local charity beneficiary for the eagerly anticipated installation and unveiling of 'The Connection'" says Fundraiser and Communications Manager Laura Power. "I think I can speak for everyone when I say we have so missed events like this over the past 18 months during the pandemic and we are thrilled that the installation will enable UHB Charity to continue to support our NHS Superheroes and our patients and families during this time."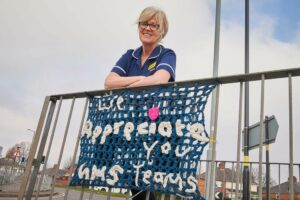 The public can support their local Birmingham Hospitals as they sponsor a 'brick', which will be personalised with their name or special chosen message. The first installation will be at Broadway Plaza in Birmingham. To take part, visit www.theconnectionworldwide.com. To find out more about the university Hospitals Birmingham Charity  please visit their website, https://www.hospitalcharity.org.
Gill Hutchinson, Aardvark Marketing Director will be working alongside Luke on this exciting new project.  People can join us on this inspiring adventure through The Connection website www.theconnectionworldwide.com or follow us on Facebook, Instagram, Twitter or LinkedIn.